ALERT! Circulators of Referendum Needed in the City of Medina Saturday, July 27   Referendum Petition
Fri, Jul 19th, 2019 11:26:38 am
ALERT! Circulators of Referendum Needed in the City of Medina Saturday, July 27   Referendum Petition
Concerned Citizens for Medina City
 If you can help to circulate the petition in Medina on Saturday and Sunday, July 27 & 28 click here and provide your information and our staff will contact you. Also, phone 330-887-1922 or contact Joann Campbell at joann.campbell@yahoo.com  
This referendum will place newly enacted ordinance 112-19 on the fall ballot for the City of Medina.  The ordinance was passed quickly by Medina City Council on July 8th without adequate opportunity for public comment. The language prohibiting discrimination on the basis of sexual orientation or gender identity and expression is ambiguous and ill-defined.  This referendum will allow for the people of City of Medina to decide on the approval or rejection of the ordinance.
 Areas of concern that the citizens have expressed:  The public accommodations provision in the City ordinance that passed Council on Monday, July 8 would result in the following negative impacts for the City of Medina and its residents.  The ordinance states – "TO PROHIBIT DISCRIMINATORY CONDUCT ON THE BASIS OF SEXUAL ORIENTATION AND GENDER IDENTITY OR EXPRESSION-"
Areas of Concern
·        This LGBTQ special rights ordinance provides for a public accommodation section on page 6 of the ordinance. It allows for persons of any "gender identity or expression" to be allowed in any public restroom of the opposite sex.
·         Medina City Schools also have to allow those students that perceive themselves to be transgender to enter restrooms, locker rooms, and showers of the opposite sex.
            ·        Students may be able to choose to compete in sports as a gender opposite of their birth gender. 
·        The City of Medina would face making costly investigations into citizen claims of discrimination based on gender identity and expression which are difficult to prove. 
Business owners will be faced with the decision to make brick and mortar changes to accommodate a third restroom or face fines.
These concerns were addressed before the City Council by local residents who opposed the ordinance. The Council ignored those concerns and passed the ordinance by a 5-2 margin. That is why we are circulating a referendum to put the issue on the ballot for the citizens to decide. 
   *****ACTion Alert*****   LGBTQ laws clear Medina Council committees
Mon, Jul 8th, 2019 9:48:23 am
     *****ACTion Alert*****   LGBTQ laws clear Medina Council committees
Click here to read the letter from the Ohio Christian Alliance to the City of Medina Council members! 
Under the guise of inclusiveness, Ordinance 717 would strip business/property owners of their constitutional right to individual liberty with regard to hiring and firing practices, and control over their private accommodations.

In addition, it would require all public schools and facilities to allow biological males (who identify with the opposite sex) access to women's only designated areas, and sports teams. The reverse is also true.

Variations of this legislation have resulted in lawsuits pending throughout the United States. This well-meaning, but harmful ordinance is slated for final approval this Monday, July 8th, 6:30 PM, in Medina's City Hall, 132 North Elmwood Avenue (1 block north and west of Medina's Historic Square).
If you work, live or dine in the City of Medina, please consider attending to make your voice heard on this important matter.
Protecting women and children is a concern of the Ohio Christian Alliance. 
We feel this legislation is unnecessary and will put women and children at risk. Your calls and emails are needed. The vote is scheduled for Monday night July 8.  Contact these City of Medina council members:
 President John Coyne 
330-723-9998, office: 330-849-6677, cell: 330-730-1763 email: jcoyne@medinaoh.org or jcoyne@ralaw.com 1165 Ty Drive
Ward 1 Bob Starcher
234-755-2341,emai:rstarcher@medinaoh.org, 887 Bunker Hill Road
Ward 2 Dennie Simpson
330-725-3302, email: dsimpson@medinaoh.org, 951 Shorewood Dr.
Ward 3 Eric Heffinger
330-887-2388, email: eheffinger@medinaoh.org, 
Ward 4 Jim Shields
330-722-8402, email: jshields@medinaoh.org, 327 Cardinal Drive
Council- At-Large Paul Rose
330-723-3459, email: prose@medinaoh.org, 345 Lakeview Dr.
Council-At-Large Bill Lamb
330-725-6075, cell: 330-421-5829, email: blamb@medinaoh.org
Mayor Dennis Hanwell 330-722-9021, email: Mayor's Office— scrow@medinaoh.org
D-Day Prayer Project National News
Sun, Jun 9th, 2019 7:10:57 pm
D-Day Prayer Project Temporary Prayer Plaque Placement Ceremony at the Circle of Remembrance June 6, 2019
Senator Rob Portman held a presentation at the Circle of Remembrance area of the WWII Memorial in Washington, D.C. on Thursday, June 6, as part of the D-Day 75th Anniversary observance. This presentation was to add the temporary prayer plaque of FDR's D-Day Prayer that he prayed with the nation on the morning of the D-Day Landings on June 6, 1944.  President Trump, as part of the anniversary observance, read the prayer to a crowd gathered in England with Queen Elizabeth and other dignitaries assembled. Once again, FDR's D-Day Prayer received national attention as radio and television stations across the country aired the audio or read the prayer.  
Here is the press coverage of OCA/CAA President Chris Long and members of the board participating in the Washington D.C. observance at the ceremony. Members of the OCA Board presented a check for $20,000 to the Friends of the WWII Memorial to help with the cost of paying for the construction and placement of the prayer at the WWII Memorial. $480,000 more is needed for the prayer's addition; $2-3 million is needed for the Circle of Remembrance upgrade and enhancement of with the prayer will be the center. 
CLICK HERE FOR THE COVERAGE BY PAUL STRAND OF THE 700 CLUB
CLICK HERE FOR THE COVERAGE BY THE WASHINGTON TIMES
This year's banquet featured the D-Day Prayer Project
Sat, May 11th, 2019 3:13:32 pm
This year's banquet featured the D-Day Prayer Project- Final Phase for placement of the prayer at the WWII Memorial in Washington, D.C. 
OCA Spring Freedom Banquet Was a Great Event!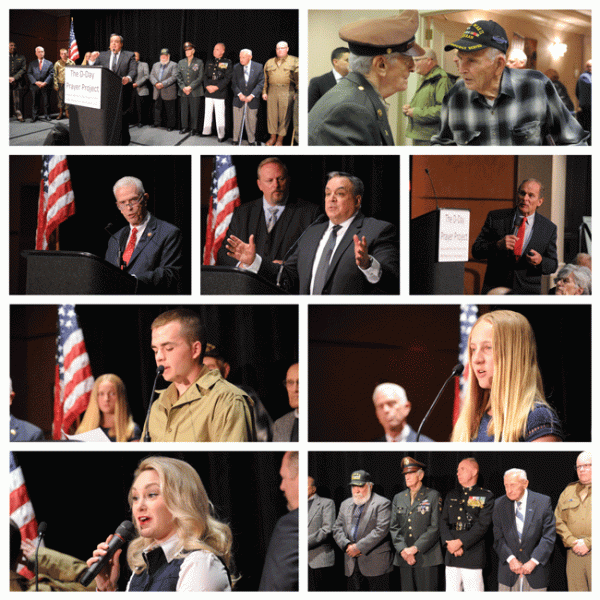 CLICK ON IMAGE TO SEE PHOTOS OF EVENT
A SPECIAL MESSAGE FROM SENATOR ROB PORTMAN!
Launches National Campaign to Fund the D-Day Prayer Project.
A night to honor our veterans.   On hand to celebrate the evening were WWII veterans: Frank Ninni, a veteran of the Battle of the Bulge;  William Miller, a veteran of Normandy Utah Beach; Jack McClure; and Cemil Hamad who served in the 15th Infantry Regiment, 3rd Army Division with Audie Murphy. Other veterans: Marine Colonel (Ret) Danny Bubp (former State Rep.), Korean War veteran David Long, Lt Col. Air Force (Ret) Bill Johnson, keynote speaker. Also present: WWII re-enactment group Crew 1944.  Special thanks to Master of Ceremonies Bob Frantz of WHK Salem Radio Network, musical guest Mrs. Melanie Miller, and author/historian Bill Federer.  Helping to read the D-Day Prayer were Brock Bowman and Kristine Roegner. Thanks to our program sponsors and table sponsors who helped to make the evening a huge success. 
Breaking News! Ohio Heartbeat Bill Signed into Law by Governor DeWine
Thu, Apr 11th, 2019 3:57:13 pm
Breaking News! Ohio Heartbeat Bill Signed into Law by Governor DeWine
Today Governor Mike DeWine made good on his promise to Ohio voters by signing into law Ohio's Heartbeat Bill S.B.23, known as The Human Rights and Heartbeat Protection Act, sponsored by State Senator Kristina Roegner of Ohio's 27th district. Yesterday both the Ohio House and Senate passed the amended bill which is now one of the nation's strongest abortion bans. The legislation restricts an abortion when a fetal heartbeat is detected. The bill also has stricter penalties for physicians performing an abortion.
OCA President Chris Long stated, "This is a great step forward in the protection of human life. Ohio was one of the first states to introduce the Heartbeat Bill legislation back in 2011. Since that time, 21 other states have introduced or passed Heartbeat Bill-style legislation to protect unborn human life. The courts have already begun to review the law by the various states. It is just a matter of time before the Heartbeat Bill makes its way to the U.S. Supreme Court. Elections have consequences. Here in Ohio, we have surveyed candidates for the past eight years on the question of whether they would prohibit abortion when there is a detectable heartbeat. In the 2018 Gubernatorial contest, Governor Mike DeWine answered the question in the affirmative. His opponent, Richard Cordray, did not support the Heartbeat Bill. Thankfully, Governor DeWine made good on his promise and signed the legislation into law today. Some revisions were adopted in the bill's language strengthening the legislation and giving it specific definition."
We want to express our thanks to the House and Senate members who voted in support of S.B. 23. We also want to thank Dr. Kathi Aultman of the Lozier Institute and Attorney Josh Brown, who both testified in support of the legislation. There were more than 80 pro-life proponents that came in to give testimony in support of S.B. 23, Ohio's Heartbeat Bill sending a strong message that Ohio is a Pro-Life State.
Ohio Heartbeat Bill On Its Way To Becoming Law In Ohio
Thu, Apr 11th, 2019 12:00:15 am
Ohio Heartbeat Bill On Its Way To Becoming Law In Ohio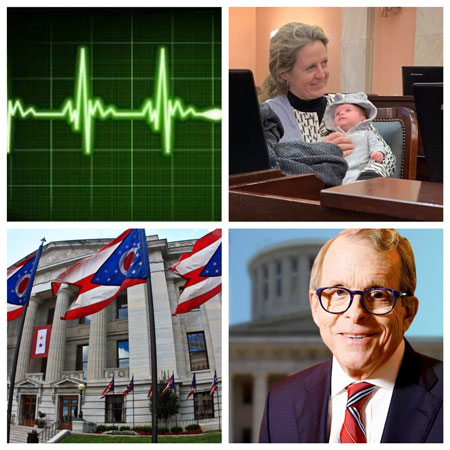 Apr 10th, 2019 NEWS IN FOCUS    CLICK HERE TO HEAR THE BROADCAST
Ohio Heartbeat Bill on its way to becoming law in Ohio
Part 1 - Dr. David Prentice of the Lozier Institute and OCA Attorney Josh Brown discuss SB 23, Ohio's Heartbeat Bill, now known as Human Rights and Heartbeat Protection Act. Live updates from the Ohio Statehouse. 
Part 2 - Pastors panel discussing Ohio's Heartbeat Bill and the challenges ahead for the pro-life community, as we must win over the hearts and minds of our fellow countrymen on the life issue.
News Index and Archives