Justice Kavanaugh Has Been Confirmed and Civility has Prevailed
Fri, Oct 12th, 2018 9:01:53 am
Ohio Christian Alliance President Chris Long made the following statement today regarding the confirmation of Justice Brett Kavanaugh to the U.S. Supreme Court:  
  After a long and arduous confirmation process, the United States Senate today confirmed Brett Kavanaugh as the next associate Justice of the U.S. Supreme Court.  Justice Kavanaugh brings a wealth of judicial experience and knowledge to the Court. Today, the U.S. Senate members who voted to confirm Justice Kavanaugh took a courageous and meaningful stance. They were not only voting for the next justice of the Supreme Court, but they were also casting a vote for the civil, constitutional confirmation process that the United States Senate Chamber is constitutionally bound to conduct.
We want to thank all our member supporters for their continuous prayer for the Kavanaugh family and for our U.S. Senators during this process.
In the face of incivility and at times a spirit of anarchy from those on the Left who opposed Justice Kavanaugh for the bench, a higher moral civil response prevailed. We would like to specifically thank Senator Rob Portman from Ohio who cast a vote in the affirmative for Justice Kavanaugh's confirmation."
If we cower and drawback, we will lose this fight. But, if we pray, we can seize the day. 
Wed, Sep 26th, 2018 11:38:40 am
If we cower and drawback, we will lose this fight. But, if we pray, we can seize the day.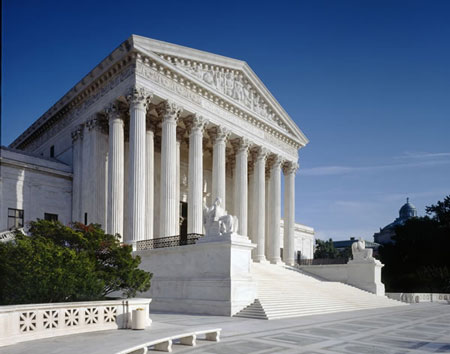 As you are aware, much is at stake this week in the U.S. Senate Judiciary Committee, as a high profile hearing will take place we are now told, on Thursday September 27th, on the confirmation hearing on Justice Brett Kavanaugh. The eleventh hour accusation in a letter that was presented to the media by California Senator Diane Feinstein has delayed the committee vote and Senate confirmation of Justice Brett Kavanaugh. Republican Senators complain that they have not seen the unredacted letter that Senator Feinstein produced only after the hearings were concluded. She states that she was in possession of the letter for two months. Much has been made in the media of Christine Blasey Ford's accusation against Brett Kavenaugh. He has released a brief statement categorically denying the charge and states he was not at the location at which she says the incident took place 36 years ago. In a back and forth maneuvering through her attorney and Chairman Senator Grassley, Ms. Ford, we are told, will now testify before the committee. Other information has come forward from other news sources that you may have not heard of, as the mainstream media has not provided this information. Here is a statement that was made on the Ohio Christian Alliance Facebook page this weekend. 
"It has come to light that Dr. Ford works for a company that produces an abortion pill. Her accusation brought against Judge Kavanaugh has yet to be corroborated by other sources. In fact, just the opposite. Women throughout his career vouch for his character and professionalism. This woman's far-fetched claim with few specifics and short on details appears erroneous in nature and the motive is now beginning to manifest itself. If she testifies under oath before the U.S. Senate committee, she should be mindful of that. There are many in this country that are beginning to take false accusation seriously and are calling for punitive sentencing of those who present false testimony. As the commandments state, 'Thou shall not bear false witness against thy neighbor. Deut. 5:20'"
Ms. Ford's attorney is a known liberal activist, and we will all learn on Thursday what Ms. Ford's claim is. But what we do know is that she has produced writings in support of an abortifacient drug. And according to the Gateway Pundit, she was compensated for her writings. We thought it important that you receive this additional information. What we do ask of you is to pray. We are in a spiritual battle. We know that ever since the 2016 Election, the President, the Vice President, and his administration, have been under constant assault by the radical Left of this country.
We as Christians must not fall asleep at this time or cower back from the battle. We wrestle not against flesh and blood, but against principalities, against powers, against the rulers of the darkness of this world, against spiritual wickedness in high places. (Ephesians 6:12) Please join us in prayer this week for Mr. Kavanaugh and the Senate committee.
Thank you and may God bless you. 
Chris Long
The Disruptive Disorderly Ruckus-Filled Senate Hearing Today on Justice Kavanaugh
Wed, Sep 5th, 2018 10:17:44 am
The Disruptive Disorderly Ruckus-Filled Senate Hearing Today on Justice Kavanaugh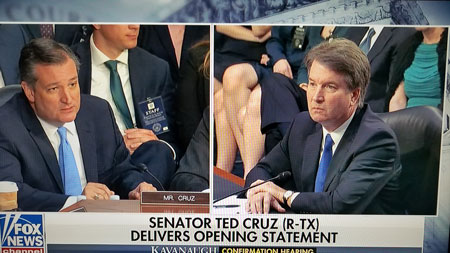 The Disruptive Disorderly Ruckus-Filled Senate Hearing Today on Justice Kavanaugh

An excellent presentation today by Senator Ted Cruz of Texas at the confirmation hearing for Justice Kavanaugh. He reminded the committee and the viewers that with the open seat on the Supreme Court during the 2016 Election, it was the first time in 60 years that the American people were not only voting for a President, they were voting for the type of justice they would want to sit on the Supreme Court. They chose Donald Trump and they chose the conservative justices that he would appoint. The Ohio Christian Alliance supports Justice Brett Kavanaugh for the U.S. Supreme Court.
Today, the Democrats who oppose President Trump's nominee to the U.S. Supreme Court, Justice Brett Kavanaugh, and their liberal activist allies, orchestrated a stunt protest in the U.S. Senate hearing on the confirmation of U.S. Supreme Court nominee Justice Kavanaugh. Chairman of the committee, Chuck Grassley of Iowa, attempted to keep order, but was immediately interrupted numerous times during his opening statement of the committee.
OCA President Chris Long made the following statement in regard to today's hearing, "The incivility of the political Left reached new lows today in the U.S. Senate hearing for Justice Brett Kavanaugh. Never before has the American public witnessed such disregard for the Senate chamber and the committee process. Outburst after outburst was heard from the audience from activists who had come to the hearing with the intent purpose of disrupting and causing a ruckus. Nearly two dozen protesters were escorted eventually from the hearing by Capitol police. Equally disturbing were the Democratic members of the U.S. Senate Judiciary Committee who time and again broke with protocol, interrupting fellow members and disregarding the Chairman's point of order. Their efforts to stall and delay did not succeed. The other members were eventually able to express their support for Justice Kavanaugh, and before day's end the nominee was able to present his opening statement."
Please join with us in praying for the continuation of these hearings that will take place for the next several days. It is the belief of the Ohio Christian Alliance that Justice Kavanaugh will be an excellent Constitutional jurist. 
Social Tech Giants Launch Campaign to Censor Conservative Voices. Art Moore, The Activist Mommy, and Linda Harvey Discuss.
Thu, Aug 23rd, 2018 5:41:47 am
Social Tech Giants Launch Campaign to Censor Conservative Voices. Art Moore, Activist Mommy, and Linda Harvey Discuss.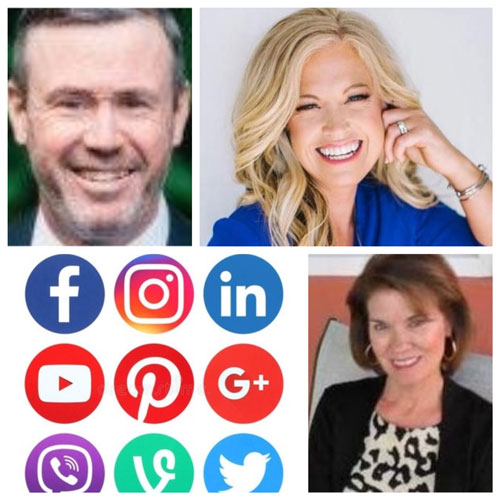 CLICK HERE TO HEAR THE BROADCAST!
On this week's News in Focus, we discuss the efforts of Facebook, Twitter, YouTube, and other social media platforms to censor conservative voices. Under the guise of fake news and what they term "hate speech",  the social media tech giants are silencing credible conservative voices. Elizabeth Johnston, known as The Activist Mommy, has been a target of such censorship by the deactivation of her accounts. Others such as Prager University and Act for America have had their videos taken down or blocked. Art Moore, investigative journalist for World Net Daily, said that their conservative news agency is not exempt. They have suffered the loss of many followers due to the tech giants of Google, Facebook and Twitter blocking their presence on the Internet. Tune in and learn more.  We will keep following this story as it develops.
Return To Plymouth AUG 2-5 2018 Here is the information
Thu, Jun 21st, 2018 12:38:21 pm
Celebrate Liberty August -Make plans to join us next year
Celebrate Liberty 2018
Plymouth, Massachusetts in cooperation with the Plymouth Rock Foundation
The Ohio Christian Alliance will be returning to Plymouth with Pastor Paul Jehle of the Plymouth Rock Foundation and Leo Martin of the Jenney Museum as we retrace the steps of the Pilgrims with reenactments, historical tours, and worship service. We will tour Plymouth and historic Boston, Massachusetts on the Freedom Trail. You are responsible for your own travel and accommodations. We will participate in the tour as a group from Ohio. Indicate on the form that you will be part of our group. You can reserve your room at the John Carver Inn or other local hotels in Plymouth. Hope to see you there.
Copyright Jenney Museum © 2018. All Rights Reserved.
Breaking News: for Religious Liberty from the U.S. Supreme Court.
Mon, Jun 4th, 2018 12:32:35 pm
The following is from the Reuters News service .....
Supreme Court rules for Colorado baker who wouldn't make same-sex wedding cake
The justices, in a 7-2 decision, faulted the Colorado Civil Rights Commission's handling of the claims brought against Jack Phillips, saying it had showed a hostility to religion. In doing so, the commission violated his religious rights under the First Amendment of the U.S. Constitution.
But the court did not issue a definitive ruling on the circumstances under which people can seek exemptions from anti-discrimination laws based on their religious views.
The commission had said Phillips violated the Colorado anti-discrimination law that bars businesses from refusing service based on race, sex, marital status or sexual orientation by rebuffing gay couple David Mullins and Charlie Craig in 2012.
Two of the court's four liberals, Stephen Breyer and Elena Kagan, joined the five conservative justices in the ruling authored by Justice Anthony Kennedy.
Ohio Christian Alliance President Chris Long stated the following concerning today's decision by the U.S. Supreme Court. "We celebrate today's decision by the U.S. Supreme Court in favor of Religious Liberty in the Colorado baker's case. Today the court reinforced the First Amendment rights of every American to freely live out their religious beliefs according to the dictates of their own conscience as they see fit, not what the state dictates they should be. We hope this sends a clear message to legislatures and office holders that Religious Freedom needs to be taken seriously when considering laws and statutes."
News Index and Archives