Governor Sam Brownback Named Ambassador at Large for International Religious Freedom by President Trump
Sat, Sep 2nd, 2017 1:11:41 pm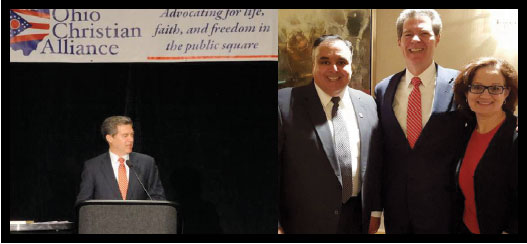 On this week's broadcast, we bring to you a special presentation of Kansas Governor Sam Brownback, who is the new nominee for Ambassador at Large for International Religious Freedom. Governor Brownback was nominated by President Trump last month and is awaiting confirmation by the U.S. Senate. Here is the message he delivered at the OCA Spring Freedom Banquet in 2016. This is a powerful message of faith and personal commitment. CLICK HERE FOR THE MESSAGE BY GOVERNOR BROWNBACK.   Tune in and tell a friend.
D-Day Prayer Project Fundraising to Place the Prayer
Thu, Aug 24th, 2017 10:11:57 am
D-Day Prayer Project Fundraising to Place the Prayer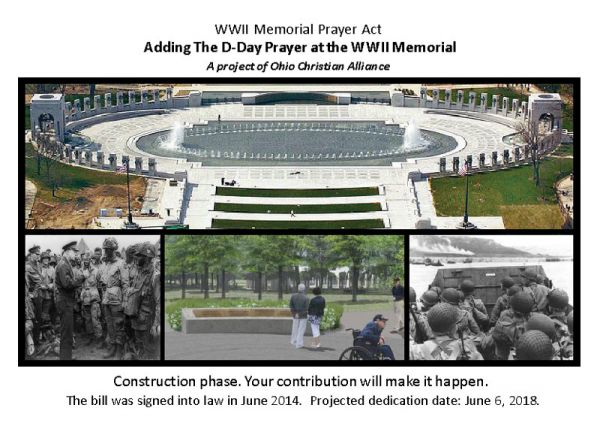 We began in earnest our four-month fundraising campaign for the D-Day Landing Prayer Project. You can be part of history by helping to add this historical Presidential prayer to the WWII Memorial in Washington, D.C. by making a tax-deductible contribution to the OCA Ed Fund by clicking here. Our project goal is $300,000 by December 1st. Click on the DONATE button below.

D-Day Conneaut Ohio and the Crisis that North Korea Presents to the U.S.
Sat, Aug 5th, 2017 4:04:15 pm
Ohio Christian Alliance News in Focus is now heard in Cleveland, Youngstown, and Columbus. Cleveland Salem WHKW 1220 AM, Youngstown WHKZ, Columbus Freedom FM 91.5. Each broadcast is also available on our podcast for download. Click here and tell a friend.
D Day Conneaut Ohio and the Crisis that North Korea Presents to the U.S.

On this week's broadcast, we showcase the largest D-Day Landing Reenactment in the country that takes place right here on the shores of Lake Erie in Conneaut, Ohio in Ashtabula County. Wayne Heim of the D-Day Conneaut re-enactment committee discusses its history and this year's activities. One hundred-fifty WWII veterans will be attending this year, and 1,400 re-enactors of American, British, German, and French, along with military and Higgins landing crafts for the Saturday morning landing. This year's event will be August 17, 18 and 19.
The crisis that North Korea Presents to the U.S.
Part 2 - Fred Fleitz, Senior Fellow with the Center for Security Policy in Washington, D.C., discusses the serious threat that a nuclear-capable North Korea presents to South Korea, Japan, and now the Continental United States. Tune in and tell a friend.
A Statement from the Ohio Christian Alliance on Medicaid Expansion Freeze
Tue, Jul 4th, 2017 1:45:33 pm
In order to safeguard the Medicaid program for those Ohioans who truly need it. the elderly, the disabled, and the poor, restraints have to be put on the program now. Governor Kasich and the controlling board in 2013 expanded Medicaid to include able-bodied, working individuals who truly can pay their own way. The Governor originally said that only a few hundred thousand people would be added to the rolls; since he made that claim the amount has tripled. Without the freeze, it is estimated that another half million could enter the program.The reality is that able-bodied, working-age adults are being put ahead of 60,000 disabled Ohioans who rely on Medicaid but are currently on a waiting list. This is morally wrong and financially unsustainable. Therefore, we are calling on the Ohio General Assembly to override Governor Kasich's veto on the Medicaid expansion freeze.
###
Contact Chris Long 330-887-1922
Lost Songs of the Holocaust Found in University of Akron Archives
Thu, Jun 22nd, 2017 12:32:23 pm
Lost Songs of the Holocaust found in UA Archives  2017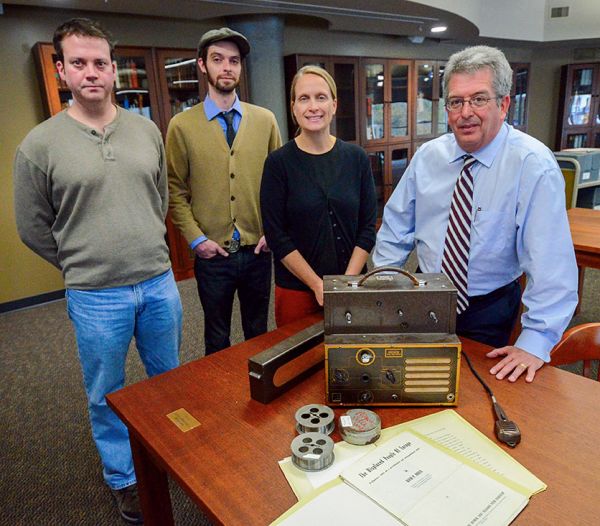 Here with a wire recorder and wire spools that hold the voices of Jewish concentration camp survivors are, from left, James Newhall, who redesigned a useable recorder, along with the Cummings Center's Jon Endres, Dr. Jodi Kearns and Dr. David Baker.
Click here to hear the recordings
In the final months of World War II, as Allied Forces began to liberate the prisoners of Nazi concentration camps, they captured on film the horrors they saw around them. Soon, the whole world saw — images of skeletal survivors bearing silent witness to what they and millions more had been forced to endure.
Dr. David Boder was determined to give the survivors a voice.
In the summer of 1946, the psychologist interviewed at least 130 Jewish survivors in nine languages in refugee camps in France, Switzerland, Italy and Germany. With a wire recorder — then considered state-of-the-art equipment — and 200 spools of steel wire, Boder preserved some of the first oral histories of concentration camp survivors. He also recorded song sessions and religious services.
A portion of Boder's work has been archived at The University of Akron's Drs. Nicholas and Dorothy Cummings Center for the History of Psychology since 1967. But it wasn't until a recent project to digitize the recordings got under way that a spool containing the "Henonville Songs," performed in Yiddish and German and long thought lost, was discovered in a mislabeled canister.
"I think it is one of the most important discoveries from our collections in our 50-year history," notes Dr. David Baker, the Margaret Clark Morgan Executive Director of the Cummings Center. "The songs were recorded at a refugee camp in Henonville, France. The Nazis made the prisoners sing some of these songs as they ran to their forced labor sites and back each day.
"That we could give the world the melody to a song sung by those sentenced to their death through forced labor during one of the most unspeakable horrors of the 20th century is remarkable," Baker adds.
OCA Spring Freedom Banquet 2017
Wed, Jun 21st, 2017 11:18:50 pm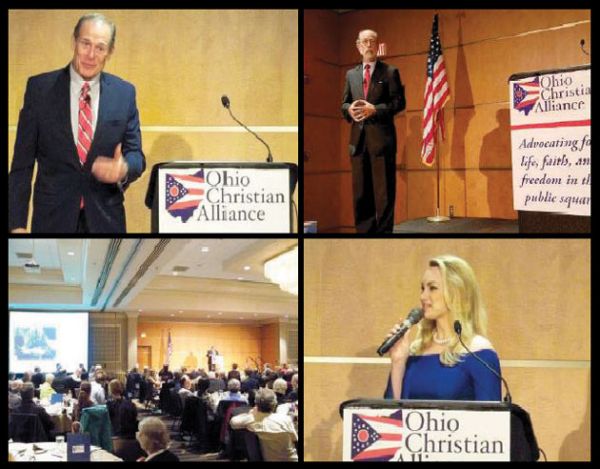 Spring Freedom Banquet May 25, 2017. This year, honoring our veterans with the D-Day Landing Prayer Project. OCA President Chris Long presented the fundraising, construction and dedication phase which has begun on a 12-month calendar. The $600,000 upgrade to the WWII Memorial Monument for the Prayer's placement at the Circle of Remembrance will not be paid for by tax dollars but by private contributions from you and me. If we stay on schedule, the dedication will be June of 2018. This year's speakers included author and historian Bill Federer from the American Minute who gave an address from the notes of his book, "Prayers and Presidents" and Frank Gaffney from the Center for Security Policy who delivered a national security briefing to the attendees. Funds were collected through the OCA Ed Fund for the D-Day Prayer's construction.  Make a fully tax-deductible contribution to add FDR's D-Day Landing Prayer in its entirety at the WWII Memorial in Washington, D.C.   CLICK HERE 
News Index and Archives