Election Results County by County
Tue, Nov 5th, 2019 7:44:58 pm
 Election Results County by County
What's On My Ballot? Vote Tuesday November 5th
Tue, Nov 5th, 2019 12:34:22 am
What's On My Ballot?  Vote Tuesday November 5th
Click on the image above and this link to view your sample ballot
This election will feature municipal and township races. There will also be local ballot issues to decide, school levies, bond issues, etc. There are no statewide ballot issues this election. The Ohio Christian Alliance will provide a full comprehensive voter guide for the 2020 November Election. We will also provide a Congressional scorecard and helpful information for the March Primary. Each election is important for people of faith to make their mark and make a difference. So, get out and vote tomorrow and click on the link above for the sample ballot to review before you vote. 
God bless you.  
Chris Long
President, Ohio Christian Alliance
Thanks to all who made the Fall Freedom Banquet a special night to celebrate freedom.
Mon, Sep 30th, 2019 1:16:41 pm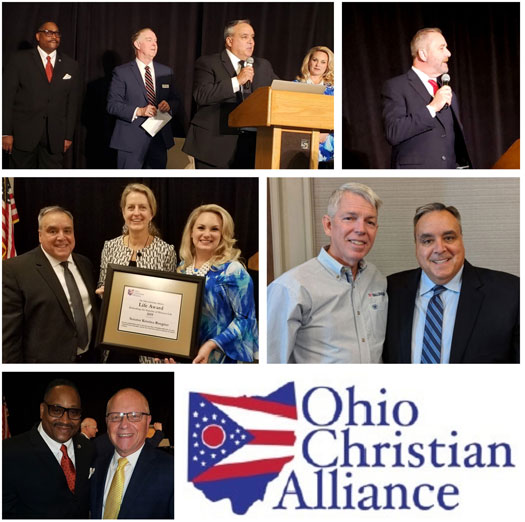 Thanks to all who came to the Fall Freedom Banquet and helped to make it a special evening, AG Dave Yost, SOS Frank LaRose, Senator Roegner, Dave Barton, John Coats, Bob Burney, Matt and Melanie Miller. Click here to see more pictures from Friday night's dinner. 
The day began with a Pastors Luncheon with David Barton talking with pastors on religious liberty and the Founding Fathers. David discussed the importance of what God is doing to change the land by giving us judges that will rightly judge according to His statutes. This is how God will begin to heal the land. Recent court decisions favorable to religious liberty have already begun to have a ripple effect, changing the course of the judiciary's view of religion and religious liberty. 
Friday night's dinner was attended by supporters from around the State of Ohio. Addressing the attendees were State Attorney General Dave Yost, Secretary of State Frank LaRose, and Senator Kristina Roegner who received the Ohio Christian Alliance Life Award for her sponsorship of Ohio's Heartbeat Bill S.B. 23.  Legislators also in attendance were Representative Mark Romanchuk, Representative Todd Smith, Senator Andy Brenner, and former State Representative Andy Thompson. College students from Capitol University, Ohio Christian University, and Kent State University were in attendance. 
OCA presents Gov. Mike DeWine with a framed copy of the 10 commandments for hanging in his office
Sat, Sep 7th, 2019 9:40:10 am
OCA presents Gov. Mike DeWine with a framed copy of the 10 commandments for hanging in his office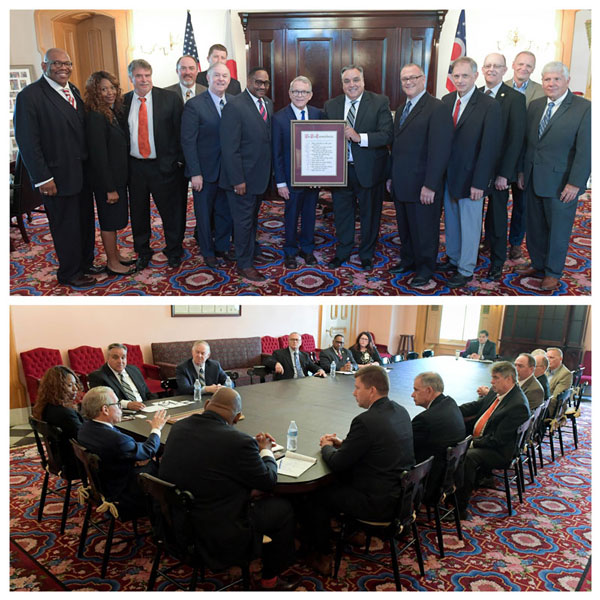 Joining us in the presentation was this distinguished group of leaders from across the state, we had a sit down with Governor DeWine to discuss areas of faith outreach and religious liberty issues. We will give you more information in the coming weeks on areas in which the faith community will be assisting to help solve some of the pressing needs in our communities around the state of Ohio.
Joining OCA President Chris Long in the meeting was Pastors Frank Carl, John Hayes, John Rasicci, John Coats, Mark Able, Phil Fulton, Bob Burney, Judge Brown, OCA board members and advisors Larry Carlson and Garry Meeks.
The Ohio Christian Alliance has presented over 200 members of the Ohio General Assembly with framed copies of the Ten Commandments for hanging in their offices since 2003, including those serving as Governor, Attorney General, Secretary of State, Auditor, and Treasurer.
Pastor John Coats and OCA President Chris Long Discuss the Trump Administration's Proposed Rule Change That Protects Religious Organizations and Institutions in Hiring Practices.
Wed, Aug 21st, 2019 10:41:41 pm
Pastor John Coats and OCA President Chris Long Discuss the Trump Administration's Proposed Rule Change That Protects Religious Organizations and Institutions in Hiring Practices.
Aug 21st, 2019 by ohiochristianalliance
Pastor John Coats and OCA President Chris Long Discuss the Trump Administration's Proposed Rule Change That Protects Religious Organizations and Institutions in Hiring Practices.
ACTION ITEM:  Click on the link below. The comment section will be open until September 15. It is important that people of faith express their support for the rule change. 
U.S. Department of Labor Proposes a Rule Clarifying Civil Rights Protections for Religious Organizations
 WASHINGTON, DC – The U.S. Department of Labor's Office of Federal Contract Compliance Programs (OFCCP) announced a Notice of Proposed Rulemaking intended to clarify the civil rights protections afforded to religious organizations that contract with the federal government. The proposed rule ensures that conscience and religious freedom are given the broadest protection permitted by law. The proposed rule is currently available for public inspection and will be published in the Federal Register tomorrow, August 15, 2019.
The proposed rule is rooted in statute, Supreme Court decisions, and Executive Orders. The Civil Rights Act of 1964 includes a critical, protective exemption for religious organizations. A similar exemption is included in Executive Order 11246 and OFCCP's regulations, which govern certain employment practices of federal contractors. Recent Supreme Court decisions - Masterpiece Cakeshop v. Colorado Civil Rights Commission, Trinity Lutheran Church v. Comer, and Burwell v. Hobby Lobby Stores - further address the protections afforded religious organizations and individuals under the Constitution and federal law. Executive Orders 13798, Promoting Free Speech and Religious Liberty, and 13831, Establishment of a White House Faith and Opportunity Initiative, along with U.S. Department of Justice guidance, likewise instruct federal agencies to protect religious exercise and not impede it.
In keeping with that rich history, the proposed rule would clarify that religious organizations may make employment decisions consistent with their sincerely held religious tenets and beliefs without fear of sanction by the federal government. The proposal also reaffirms employers' obligations not to discriminate on the basis of race, sex, or other protected bases and does not exempt or excuse a contractor from complying with any other requirements.
"Today's proposed rule helps to ensure the civil rights of religious employers are protected," Acting U.S. Secretary of Labor Patrick Pizzella remarked. "As people of faith with deeply held religious beliefs are making decisions on whether to participate in federal contracting, they deserve clear understanding of their obligations and protections under the law."
City of Medina Referendum Petition Filed Led By Concerned Citizens Group
Thu, Aug 1st, 2019 6:54:10 pm
Areas of concern that the citizens have expressed:  The public accommodations provision in the City ordinance that passed Council on Monday, July 8 would result in the following negative impacts for the City of Medina and its residents.  The ordinance states – "TO PROHIBIT DISCRIMINATORY CONDUCT ON THE BASIS OF SEXUAL ORIENTATION AND GENDER IDENTITY OR EXPRESSION-"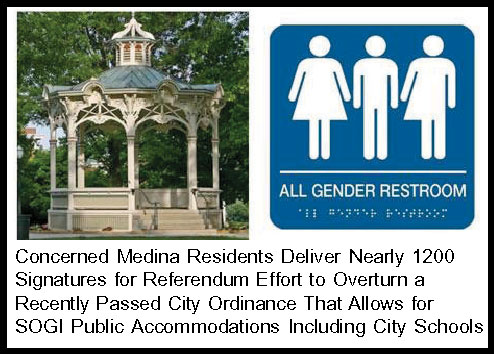 Areas of Concern
·  This LGBTQ special rights ordinance provides for a public accommodation section on page 6 of the ordinance. It allows for persons of any "gender identity or expression" to be allowed in any public restroom of the opposite sex.
·  Medina City Schools also have to allow those students that perceive themselves to be transgender to enter restrooms, locker rooms, and showers of the opposite sex.
·  Students may be able to choose to compete in sports as a gender opposite of their birth gender. 
·  The City of Medina would face making costly investigations into citizen claims of discrimination based on gender identity and expression which are difficult to prove. 
Business owners will be faced with the decision to make brick and mortar changes to accommodate a third restroom or face fines.
These concerns were addressed before the City Council by local residents who opposed the ordinance. The Council ignored those concerns and passed the ordinance by a 5-2 margin. That is why a referendum petition was circulated and filed to put the issue on the ballot for the citizens to decide. 
News Index and Archives