D-Day Prayer Addition Celebration 11-11-22 In Washington D.C Program.
Wed, Dec 14th, 2022 9:03:08 am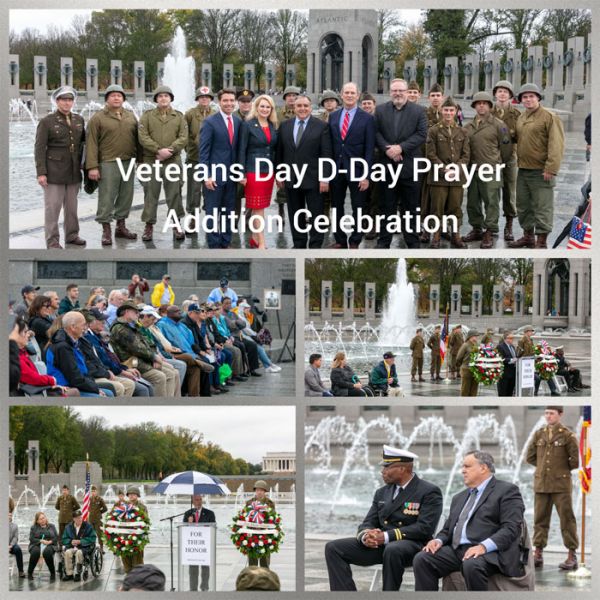 Click here to see the video of the Veterans Day D-Day Prayer Addition Celebration
CLICK HERE TO SEE THE PHOTOS OF THE Veterans Day Event!
D-Day Prayer Addition Celebration 11-11-22 In Washington D.C Program.
URGENT ACTION ALERT - To Defend Religious liberty and to Stop HR 8404 that would do away with the federal Defense of Marriage Act and threaten religious liberty for churches, individuals, and religious organizations
Sun, Nov 27th, 2022 8:23:43 am
THE U.S. SENATE HAS PASSED 8404 WITHOUT THE RELIGIOUS PROTECTION AMENDMENT- UPDATE - ON HR 8404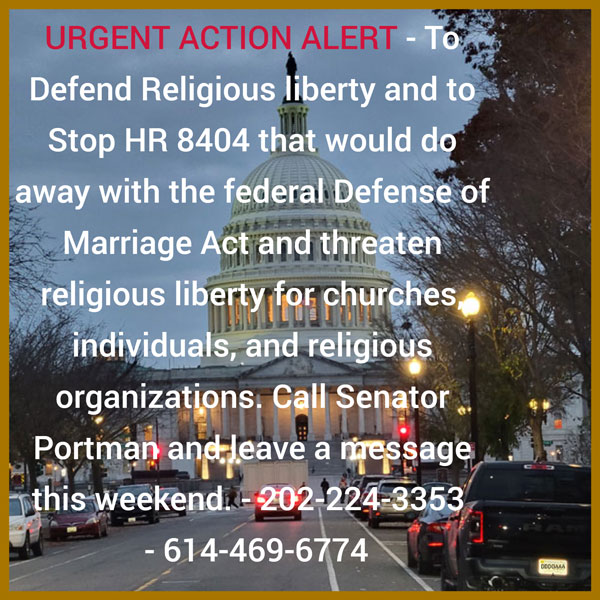 Dear Fellow Ohioan for Religious Liberty,
On Monday, the Senate will vote again on whether to advance the redefinition of marriage, and this may be our last chance to add real religious liberty protections to the bill. People of faith have been targeted by the Left for their belief that marriage is between a man and a woman; if the so-called Respect for Marriage Act bill becomes law without substantial protections, courts are likely to interpret the law as a national policy on natural marriage, equating the belief that marriage is between one man and one woman with racism. Furthermore, the bill will supercharge legal attacks by granting a private right of action to almost anyone. Currently, there are no equivalent protections in the bill.
Will you take a moment right now and ask Senator Portman to include the substantial religious liberty protections amendment being offered by Senator Mike Lee?
 A cloture vote, requiring 60 votes, is set for Monday evening. Senator Portman and 11 other Republican senators voted to advance this bill last week; if he and just two others withhold their vote for cloture Monday, they can force Democrats to add strong religious liberty protections to the bill. But he needs to hear from you.
 - This call to action was provided by the Family Research Council. The Ohio Christian Alliance is working with the FRC to defeat HR 8404 which will dismantle the 1996 Defense of Marriage Act and codify same-sex marriage into law, presenting serious threats to religious liberty for individuals, churches, and religious organizations. Tune in Tuesday to News in Focus 1220 AM Salem/Cleveland as we discuss the issue with FRC Midwest Representative Tim Throckmorton.


Here is what happened earlier this month on this bill in the U.S. Senate
The following is from Quena Gonzalez of the Family Research Council
From: Quena Gonzalez
Sent: Thursday, November 17, 2022 6:13 PM
To: Chris Long
Subject: Senator Portman voted to advance same-sex marriage. Tell him to vote FOR this strong religious liberty amendment!
Dear Mr. Long,
On Wednesday, November 16, Senator Portman and 11 other Senate Republicans voted to advance the marriage redefinition bill past a crucial procedural vote, but despite the bill's clearing that vote, all is not lost. An amendment is being offered to protect adoption and foster-care providers, thousands of religious organizations, and millions of everyday Americans from federal harassment, legal liability, and loss of tax-exempt status for their belief that marriage is between one man and one woman.
Click HERE to tell Senator Portman to support a CRITICAL religious liberty amendment to the bill!
 As we've previously warned, the (Dis)Respect for Marriage Act will go much further than Obergefell by supercharging the ongoing lawsuits against people of faith who still believe in natural marriage.
 Fortunately, Senator Mike Lee (R-UT) is introducing an amendment that would help curb the dangers of the bill in its current form. Tell Senator Portman that you want him to insist that Senator Lee's amendment is adopted!
Your calls are needed today to defend religious liberty. Click on the links and make the calls. The vote is scheduled for Monday evening.
-OCA President Chris Long
Elections Returns 2022 - The Good the Bad and the Suspicious
Tue, Nov 15th, 2022 9:27:50 pm
Election Returns 2022-The Good the Bad and the Suspicious
Cleta Mitchell who has been working on election reform over the past few years discusses the continued election mess in the states of Pennsylvania, Michigan, Nevada, Arizona, and California. Early voting and mail-in ballots allow for voter fraud. In Pennsylvania, they did away with their process of validating their ballots with the voter logs. Ballot harvesting and voter registration with same-day voting in Democratic states are creating a situation in which we do not have fair and just elections. In this broadcast, we share the suspicious voting irregularities in the state of Arizona. At the time of this broadcast, one week after the November 8th Election, Congressional races have still not been called in the states of Colorado, California, and Oregon, as they wait for late mail-in ballots. This is an absolute travesty that the election process is dragging out this long. It is intentional and allows for the meddling of ballots and vote totals. In a Rasmussen poll conducted on November 8th and 9th, 57 percent of those surveyed believed that cheating affects election outcomes. The political left has been creating an atmosphere of confusion and doubt with our election process in recent years. We as Americans must stand up and fight to have fair and accurate elections. Also joining me is Mike Goldstein, a resident of Arizona who is working with local Republicans on election reform issues in the state of Arizona where he now resides. Mike gives us an eyewitness report from Arizona. Keep praying for America. Click here to hear the interview
D-Day Prayer Addition Celebration Veterans Day at the WWII Memorial
Wed, Sep 21st, 2022 10:19:46 pm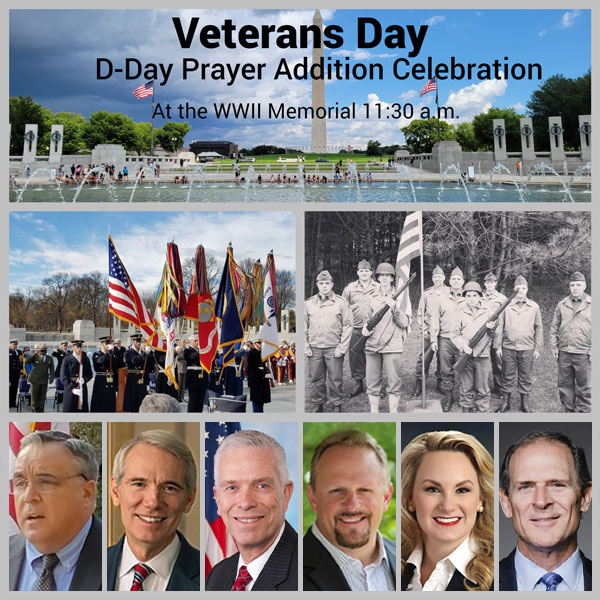 The celebration ceremony of the D-Day Prayer at the WWII Memorial in Washington, D.C., hosted by the Ohio Christian Alliance and Christian Alliance of America at 11:30 a.m. on Veterans Day, will be a time to honor all our veterans and give glory to God. The Christian Alliance of America with Bill Federer will conduct a War Memorials tour, visiting the WWII Memorial, the Circle of Remembrance where the D-Day Prayer is under construction, the Vietnam War Memorial, the Lincoln Memorial, and the Korean War Memorial.
Veterans Day Prayer Addition Celebration WWII Memorial
!
D-DAY PRAYER PROJECT UPDATE!
Mon, Jul 25th, 2022 12:13:08 pm
Ohio Christian Alliance Statement on the overturning of Roe v Wade with the SCOTUS Dobbs Decision.
Sat, Jun 25th, 2022 12:05:47 pm
FOR IMMEDIATE RELEASE                                                               June 24th, 2022
Ohio Christian Alliance Statement on the overturning of Roe v Wade with the SCOTUS Dobbs Decision.
Today, the Ohio Christian Alliance celebrates the SCOTUS decision on Dobbs that has effectively struck down the Roe v. Wade decision of 1973. Today, forty-nine years of abortion on demand in all fifty states has effectively come to an end. With the Dobbs decision, the Court has sent abortion policy back to the states. Many states are now poised to enact legislation that will end abortion and save the lives of the unborn.
OCA President Chris Long made the following statement, "We celebrate today's decision by the U.S. Supreme Court. The pro-life movement, after a long struggle, has finally prevailed with a favorable decision that defends life in the womb. The Court, in its 6-3 decision, led by Justice Samuel Alito who wrote the majority opinion, has finally heard the cries and prayers of many who have long-awaited this day. The justices held their ground and were not swayed by threats and intimidation from the opposition by the unlawful activity of those who sought to intimidate them in their neighborhoods and at their residences. Mob rule will not prevail when good men and women stand up and make conscious decisions for justice.
"Today is a day to celebrate the pro-life cause. But, as Winston Churchill said after the Battle of Britain, 'This is not the end. This is not even the beginning of the end. But this may be the end of the beginning.' The pro-life movement now has much work to do here in Ohio and in states across the country. Crisis pregnancy centers will be in greater demand. The church and Christian ministries must step up to the plate to meet the new challenge and welcome the life that just days ago would have been sentenced to death through the act of abortion."
###
News Index and Archives